State Rep Tiny Adams passed away Wed Dec. 7th. 2005 from a massive stroke
Tiny was a retired city if Muncie Fire fighter, civic leader, State Rep, father and friend.
Tiny will be missed by all who know him
State Rep Tiny Adams June 27, 1945 - December 7, 2005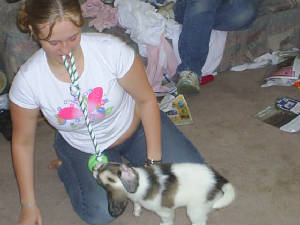 PRECIOUS WAS RESCUED FROM THE MUNCIE ANIMAL SHELTER ON APRIL 11, 2005.
WAS STARTING HER TRAINING AND WAS DOING WELL
PRECIOUS PASSED AWAY ON MAY 1, 2005 DUE TO PARVO AFTER HAVING ALL HER SHOTS.
PRECIOUS WILL BE SADLY MISSED .